Press
Selected Press and Press Releases
Australian Artist Magazine September 2011
 The September 2011 issue of Australian Artist features part of Mark's step by step demonstration of a red rose painted in oils. It showcases an eight page article, outlining his technique and explores his achievements to date.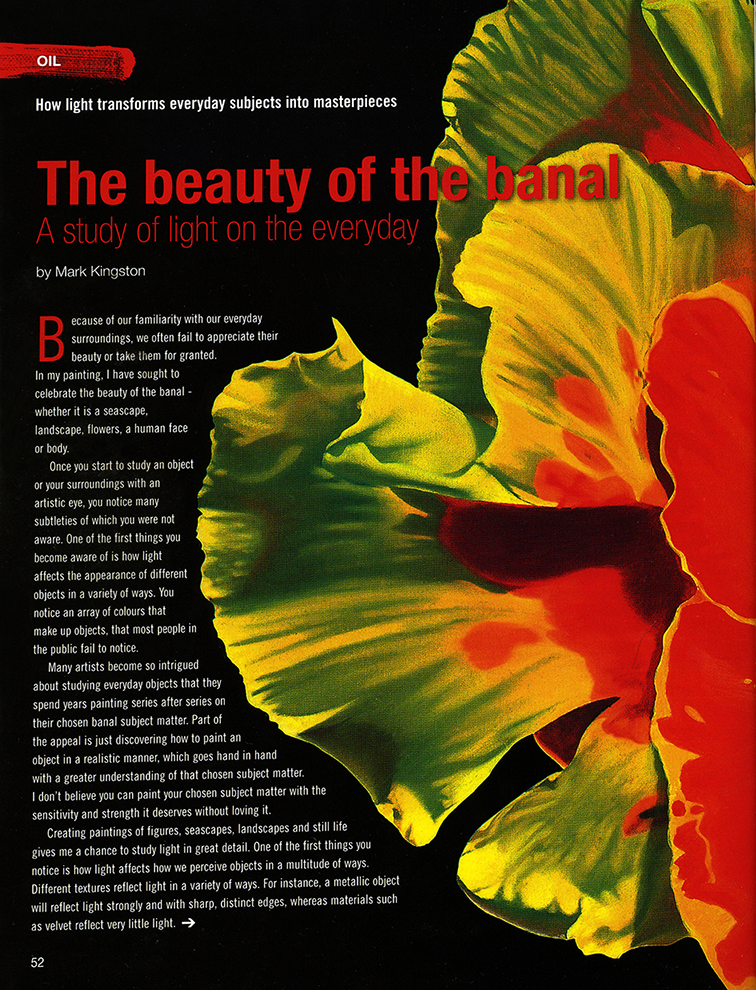 Manly Daily: Thursday, 30th December, 2010
Editorial in the Manly Daily. Mark was interviewed by Rod Bennett, The Manly Daily's art editor.
–
Peninsula Living Magazine August 2010
Editorial in the August 2010 edition of Peninsula Living.
Second page of Peninsula Living article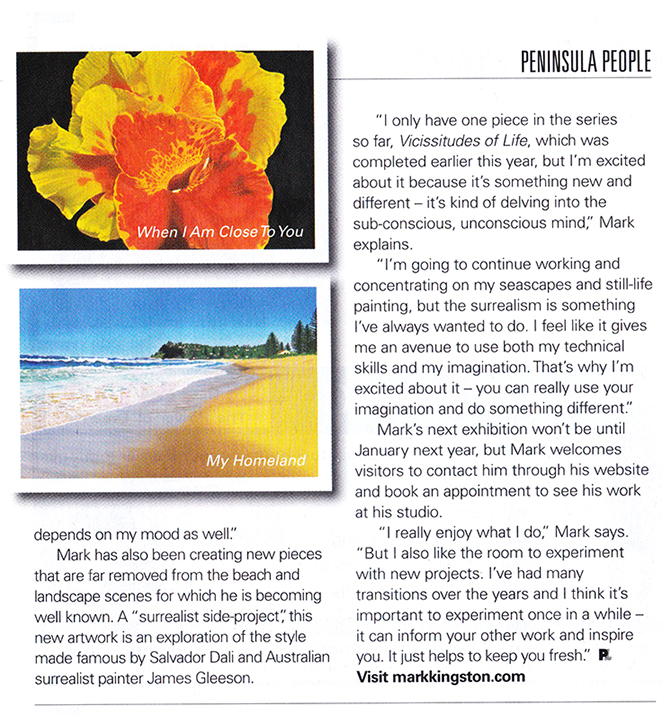 –
Peninsula Living Magazine: March, 2010
Editorial in the March 2010 issue of Peninsula living magazine. Mark was one of the feature artists interviewed for the lift out on Northern beaches artists.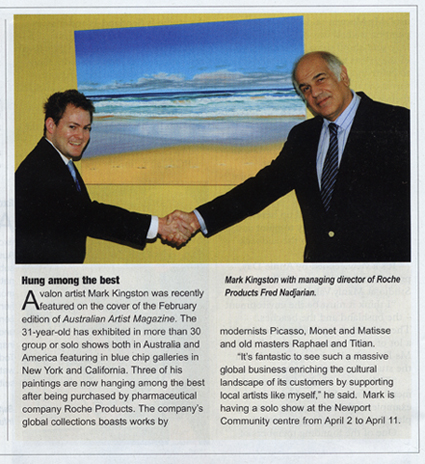 –
Australian Artist Magazine: February 2010
The February 2010 edition of Australian Artist features Mark's work on the cover and a ten page article showcasing his paintings, outlining his techniques and exploring his achievements to date.
–
Press Release 2010
Local Artist Mark Kingston Sells to Major Collector
Roche Products Australia Invests in Local Talent
 SYDNEY – Pharmaceutical major Roche Products, a company with a strong tradition of art collecting, recently acquired three paintings by Sydney artist Mark Kingston.
Roche's global art collections are known to include works by modernists Picasso, Monet and Matisse, along with older masters Raphael and Titian. Its latest purchase heralds a new direction for the Sydney arm of the company – investing in local rising talents such as Kingston.
"The family that owns Roche has a long tradition of collecting art," says Kingston. "Globally, the company has built up an impressive collection over the past hundred years. It's fantastic to see such a massive global business enriching the cultural landscape of its customers by supporting local artists like myself."
Roche spokesperson Stephen Tracey says, "Mark Kingston's paintings are high quality pieces and whilst not the motive for our purchase we would expect them to increase in value over time. They reflect Roche's interest in supporting our local environment which bears heavily on how our Australian culture unfolds."
Photo of Mark Kingston with Fred Nadjarian Managing Director of Roche Products, Australia
Daily Telegraph 29th February 2007
An article on investing in art to promote Mark's 2007 solo exhibition at United Galleries. Both paintings that are featured are by Mark Kingston.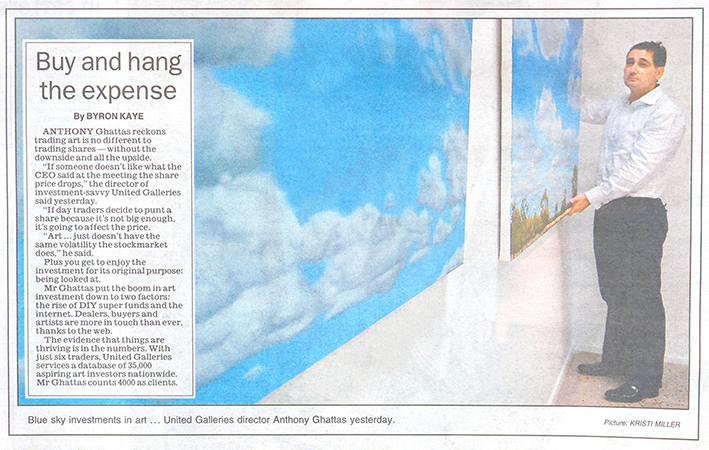 Belle Magazine late 2006
 A photo of Mark is featured to celebrate United Galleries yearly group show of the artists they represent.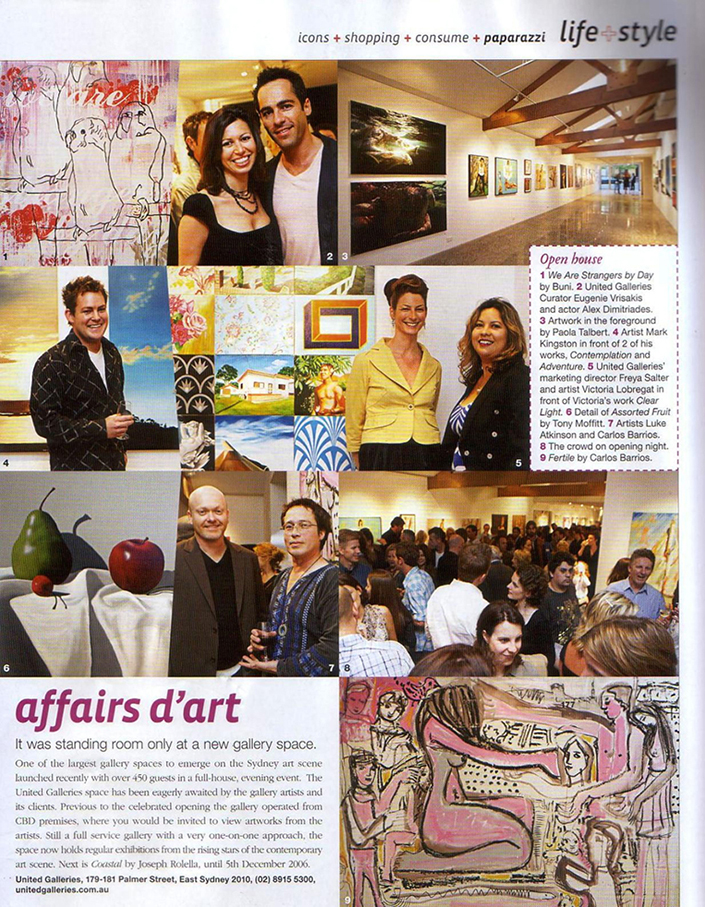 –
Belle Magazine: April -May Edition 2006
 A three page editorial in Belle Magazine featuring Mark as one of the up and coming stars of the Australian art world.
–
Australian Road Rider Magazine: May, 2002
Editorial in May 2002 issue of Australian Road Rider Magazine.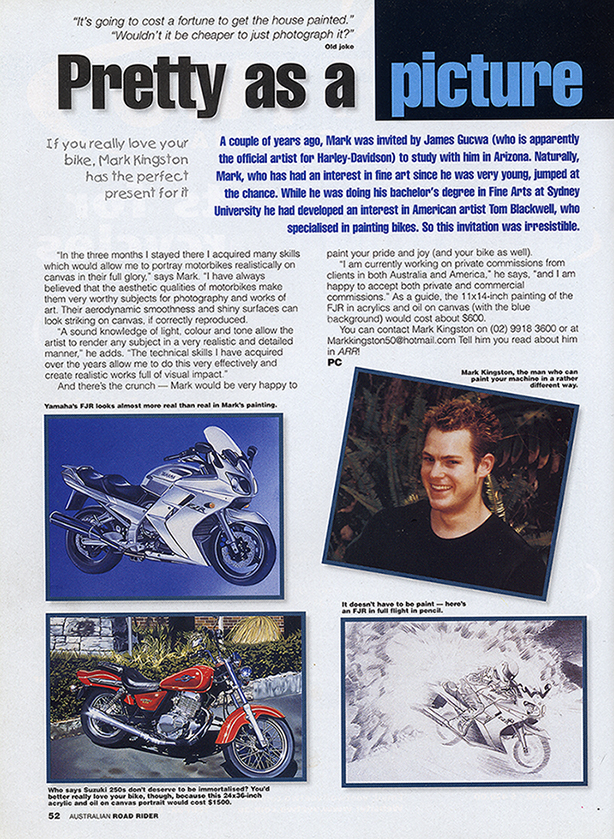 –
Manly Daily: 26th October 2001
Editorial in Manly Daily on the 26th October 2001 celebrating the fact that Mark was one of ten artists to be included in an online gallery curated by the Museum of Contemporary Art.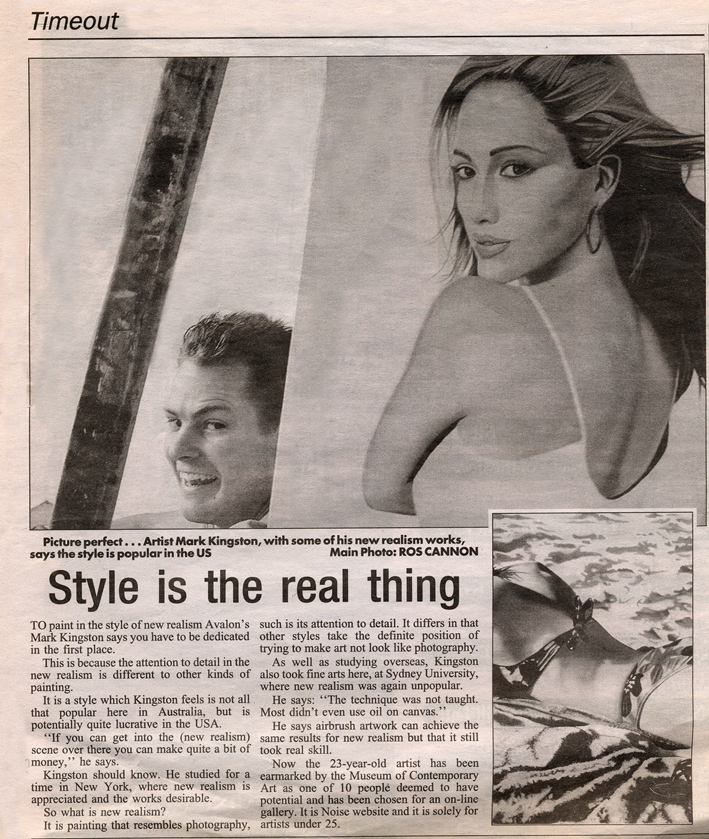 –
The Daily Telegraph: Monday, October 1st, 2001
Editorial in The Daily Telegraph celebrating Mark's selection as one of ten artists featured on the Museum of contemporary Arts online gallery.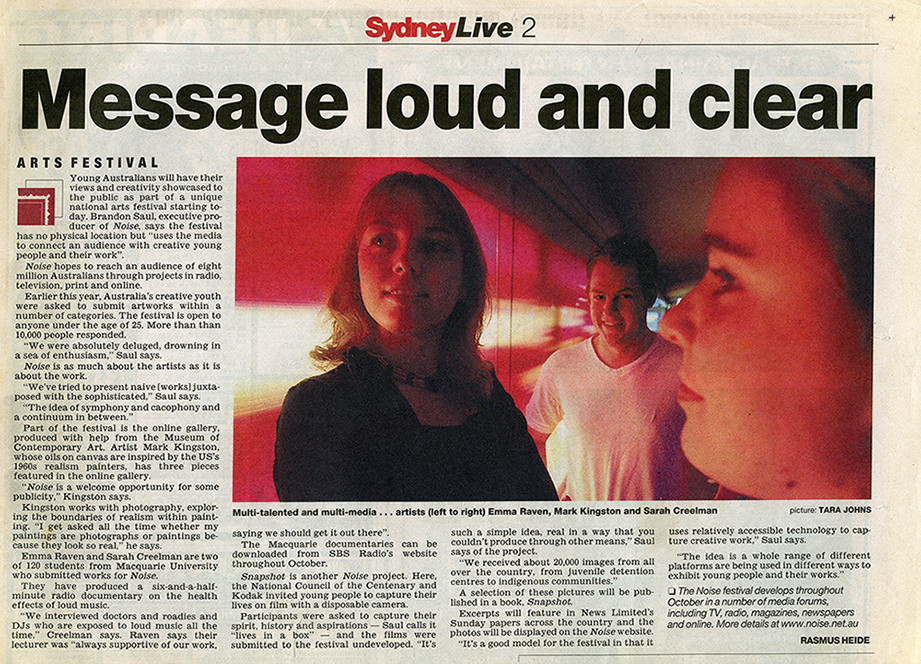 –
–
The Northern Beaches Weekender: Thursday, October 18th, 2001
Editorial in The Northern Beaches Weekender to honour Mark's inclusion on the Museum of Contemporary Arts online gallery.
–
–
24 Hours Magazine: November, 2001
Editorial in 24 Hours Magazine in honour of Mark's inclusion on the Museum of Contemporary Arts online gallery.